Glitches are things that are minor or huge irregularities on that object. It is normal even in the biggest games. This game has several glitches. Here are some that have negatively impacted game play:
Bridge Glitch
Edit
This is a glitch that you can cross an island without the use of bridges. When the designers fixed this glitch, it hampered getting access to various areas of Ancestor's Atoll because people failed to build the bridges, and people did not realize what had happened.
Bridge Quest Glitch
Edit
In older versions, this glitch is really known. Because many players have experienced this glitch and unable to do any quest on Ancestor's Atoll because of it. This glitch happens when you build a bridge and after that you receive the quest and you can't complete it because you can't demolish the bridge. This might have been fixed but not sure. So still be careful in it.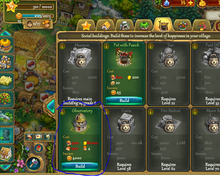 Observatory Glitch
Edit
This happens on my device (Android). Even if you are lower level you can build the observatory. It is unknown if there is in IOS. The exception is in Alien Shore that you can't built this building yet not for the main building or level but because of Quest.
Shard Mine Glitch
Edit
On the last version, after you upgrade this mine, than you cant access to it because sometimes when you touch this building, it only appears a circle and if you hold it, it says can't be moved because it is in work. This glitch is fixed in the latest update (September 2016 Update).
Water Hut Glitch
Edit
In older versions, water hut spawns again and again when you demolish it. But now it is now fixed.
Warehouse Upgrade Glitch
Edit
When you upgrade a level 4 or higher, and you speed up it, It looks like a level 2 warehouse but after it became normal again, maybe this is just a visual glitch only.
Can't Add neighbors Glitch
Edit
This is one of the most common glitches in the game. It is unknown how to solve it. But you can contact support for that. Facebook issues with neighbors are usually caused by the Facebook settings rather than Tribez.
Hut Glitch
Edit
In older versions, huts stopped paying taxes. It is solved by putting house on the storage and removing it again. It is now fixed.
Quest Glitch
Edit
On the Easter Update 2016, a new glitch appeared. When you tap the visit the island glitch the game will freeze and crash. This is now fixed in the latest update.
Farmer's Bay glitch
Edit
On Windows 10 downloaded version (not the Facebook version), when you visit this island, the game will crash. It is a bug so the developers could try to fix it.
Screenshot Button Glitch
Edit
This is a know problem in Windows 10. When you want to complete a quest regarding taking screenshot, and you click find button, it points out you to zoom in button.
Ad blocker interference detected!
Wikia is a free-to-use site that makes money from advertising. We have a modified experience for viewers using ad blockers

Wikia is not accessible if you've made further modifications. Remove the custom ad blocker rule(s) and the page will load as expected.