Second Bunker.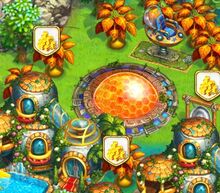 Requirements
Edit
Level: 1
Main Building Level: 1
Exploration
Edit
Quest Items
Edit
On Explore
Powerful Battery (??%), Destabilizer (??%), Dino Book (??%), Injector (??%), Air Bottle with Moon Gas (??%)
*Quest Item droprate % assumes related quest is ACTIVE and Spirit of Great Fortune is NOT active.
Size:
Can be found on: Area ??
This unit is not movable.
It looks similar to the Alien Bunker, but it costs moon graphite to explore.
Ad blocker interference detected!
Wikia is a free-to-use site that makes money from advertising. We have a modified experience for viewers using ad blockers

Wikia is not accessible if you've made further modifications. Remove the custom ad blocker rule(s) and the page will load as expected.