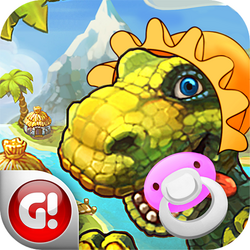 May 07 2013
Edit
Available on Apple Store
Quote from TribeZ Facebook page for iPad: Dear players! Please update your game to get access to the upcoming event - the Big Fair! It'll be open for players that have reached level 4 and higher. Also, The Ashy Islands need your help again, so Aero has prepared a bunch of new quests for you. Fulfill the special tasks to celebrate Mother's Day!
"Mothers' Day"
You must reach level 15 before you can participate in this bonus!
"The spring fills our hearts with tenderness! Celebrate Mothers' Day together with the Natives! Help the Tribe from Ashy Islands obtain cute Dinos and receive a Suprise Chest as your reward!"  
Social Quests
Edit
New Quests
Edit
Quest Title
Requirements to Complete
Rewards
When it Appears
Help Aero take Flight
240:00:00 limited
1. Help Aero to take off on his flight from
the Island of the Ancients
3,000
300
250
Initial Step

Find 30 Dino Eggs
1. Find 30 Dino Eggs in the Mysterious Cave (dino eggs already in backpack WILL count)
1,000
100
After Initial Step
Find Equipment for Hatching Dinos at Ashy Islands
1. Find 10 Bales of Straw in the Fields
2. Find 8 Cargo Boxes at the Lumber Mill
3. Find 6 Incubators in the Airplane
4. Find 3 Mosquitos in Amber at Trading Post
1,200
200
250
After collecting dino eggs
Launch Aeros Balloon
1. Launch the Balloon 3:20:00
 ??
 ??
After finding Launch Items
Insert Next Quest Info Here Box 1
Insert Next Quest Info Here Box 2
 ??
 ??
Insert After Info Here