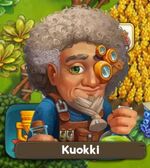 Is the crazy Alchemist who lives in the bottom left expansion beside the waterfall on Island of the Ancients.  He is responsible for the creation of all the vortexes and has quests to get rid of them. He introduces the Observation Tower and ways to activate it using Star Observatory. He also came to Farmers Bay to find the remains of the Dairy Farm and to use it again to make some tasty milk and also went to the giant tree to activate it.
Hosted the Summer Update 2013 Celebration.
Ad blocker interference detected!
Wikia is a free-to-use site that makes money from advertising. We have a modified experience for viewers using ad blockers

Wikia is not accessible if you've made further modifications. Remove the custom ad blocker rule(s) and the page will load as expected.