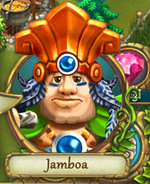 Jamboa lives in the
Island of the Ancients. His hut was destroyed by a landslide.  He comes to the Marble Fiord to go swimming and vacationing in Mystery Shore  with quests for you.  After restoring Jamboa's house it will give a

tax income equivalent to a level 4 Nice Hut.  On Ancestors' Atoll Jamboa introduces you to a friend who knows how to restore the Big Bath House. When you reached level 33, Jamboa set a trip to the island which is Farmers Bay, and introduces the early part and Ostrich Farm. There are also quests that related to Jamboa's voyage (Such as finding flutes, fishing rods and more).
Ad blocker interference detected!
Wikia is a free-to-use site that makes money from advertising. We have a modified experience for viewers using ad blockers

Wikia is not accessible if you've made further modifications. Remove the custom ad blocker rule(s) and the page will load as expected.