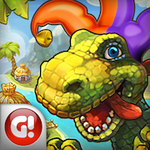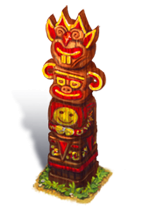 Released on: April 3rd, 2013
What's New!
Edit
New Quests
New Themed Items
Technical Improvements - there are reports that Murlod Island blackout is fixed
New Quests!
Edit
Requirement level 15
Shaman: "Chief, happy warm spring to you!  You must know that I've been cursed....ermmm.. blessed by the Spring!  The God of Fun spoke to me!  He wants to be amused!  Let's build him a Totem and give him fun gifts!  Quest appears on all islands with time limit: 14d 17h.  God of Fun Totem decoration is available on Marble Fiord.
Day of Laughter* The cheeky God of Fun has come to the Natives on the Spring wind! Celebrate the Day of Laughter with them! The inimitable master of practical jokes will reward you with a generous gift if you manage to please him and build a grandiose Totem in his honor!
Quest Title
Requirements to Complete
Rewards
When it Appears
Shaman: Build the Totem to the God of Fun on Marble Fjord

Perform the Ritual at the Fun God
Totem on Marble Fjord
Cost: 4:00:00 2 - 8
Reward: 300 110

2,000
500
Apr 3, 2013
April Fools Update
Shaman: You will need special items for the Fun Ritual.

Find 5 Coin Necklaces Trading Post
Find 7 Fun Lanterns at the Stone Mill
Find 4 Fun Masks at the Lumber Mill

3,500
350
250
After Building the
Fun God Totem on
Marble Fjord
Shaman: Build the Totem to the God of Fun on Mystery Shore

Perform the Ritual at the Fun God
Totem at the Mystery Shore
Cost: 2:40:00  ?? -  ??
Reward:  ??  ??

5,000
750
After the Ritual at
the Fun God Totem
on Marble Fjord
Shaman: You will need special items for the Fun Ritual.

Find 7 Bells in the Trading Post
Find 5 Fool's Scepter in the Theater
Find 5 Dolls at the Shaman Shop

5,000
500
300
After Building the
Fun God Totem on
Mystery Shore
Shaman: Build the God of Fun Totem on Piedmont Lands

Perform the Ritual at the Fun God
Totem at the Piedmont Lands
Cost: 2:00:00 4 -  ??
Reward: "Heavenly Astro Lab"
Airship speed tripled for 72:00:00

7,500
1,000
After the Ritual at
the Fun God Totem on
Mystery Shore
Shaman: You will need special items for the Fun Ritual.

Find 8 Card Games in Shaman Shop
Find 5 Fool's Cap in the Trading Post
Find 4 Fool's Costume in the Hotel

7,500
1,000
350

After Building the
Fun God Totem on
Piedmont Lands
*This quest is available on these islands (consecutively): -> ->