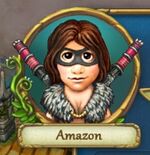 This handsome and martial lady is from Murlod Island and first appears on Ancestors' Atoll where our hero Dzu falls in love with her.
She has quests for you on Murlod Island Quests
In Game Dialogue
Edit
"Don't wake the beast in me!"

Ad blocker interference detected!
Wikia is a free-to-use site that makes money from advertising. We have a modified experience for viewers using ad blockers

Wikia is not accessible if you've made further modifications. Remove the custom ad blocker rule(s) and the page will load as expected.